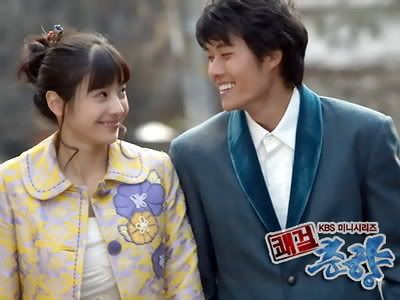 So I finished Chun-hyang (in like three days, yay for not sleeping!). My comments will cover the rest of the series so, as River Song would say, SPOILERS.
- Okay so now we've hit the Time Skip (trademark Kdrama) and, you know, it's actually a device I don't hate at much as the rest of the drama world. *shrug* Anyway, so it should surprise no one but Mong-ryong grows up to BE THE MOST AWESOME EVER. *ahem* I mean, he grows up to be a prosecutor who's kicking ass and taking names (and writing apology letters). I LOVE the scene where he reveals himself as a DA in that nightclub. It's like BAM I'm Mong-ryong and I'm no longer a teenager.
- I talked a bit about Chun-hyang's character in the last post but I do love that she's very self-sufficient. She's made quite a name of herself in two years.
- To be honest. I find that they "find" each through a phone call (though the picture reveal is awesome) pretty anti-climatic. I mean, she hangs up on him, hahaha. But man if Mong-ryong isn't persistent? It's so awesome to finally see him finally have the confidence to go after Chun-hyang when they're not under Aujusshi's thumb. And you can tell that Chun-hyang is just tired of fighting that her usual defense--being mean--just isn't effective.
- I love that now having been in the drama world for sometime, I can see the parodies and pick out what their making fun of (Full House, I'm Sorry but I Love You). When I first watched this I was like "huh?"
- Ahjusshi's "redemption" comes too late for me to care that he feels bad about splitting them up. Yeah, whatever dude. You ruined two people's lives for years.
- I never liked the whole "throwing yourself off a building thing." It's edited weirdly and is only okay because of the flashback to the folktale. Still. Thank god for that convenient air-bag thing. Phew. (Hehehe)
- And I ADORE how the folktale comes back and ties everything together. It's poignant and fabulous. Though here's something I always wondered. At the very end when Chun-hyang and Mong-ryong are talking back and forth (both present and folktale versions), folktale Chun-hyang and present-day Mong-ryong say that same things and vice-versa. How is the audience supposed to take that. When I first saw it, I automatically think that those are the characters that are supposed to be connected (folktale Chun-hyang is present day Mong-ryong) but I was never quite sure if I was reading too much into it. It would be an interesting twist if I'm right. Thoughts?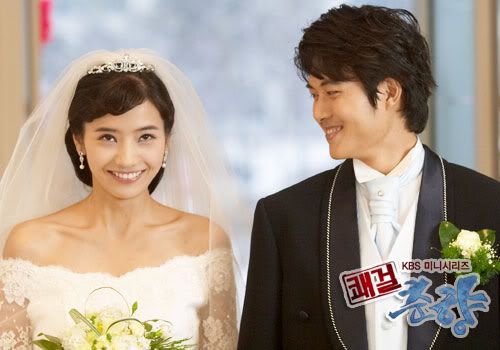 - And OH THEY ARE MARRIED AND ALL IS RIGHT WITH THE WORLD. I LOVE THIS DRAMA.
ONTO MY GIRL! YAY!