More My Girl goodness. We're entering the angsty portion of the drama and I'm drowning in my love for Gong-chan. You've been warned.
- First off, I have to do the fangirly thing. EEEEEEE THEY KISSED! And then she proceeds to fall back on her Gong-chan defense mode and that's "passing out." (Even if it means that Gong-chan gets yelled at from passerbys). And then she just so blithely gets out the car at home without another word to him. I love her oh so much.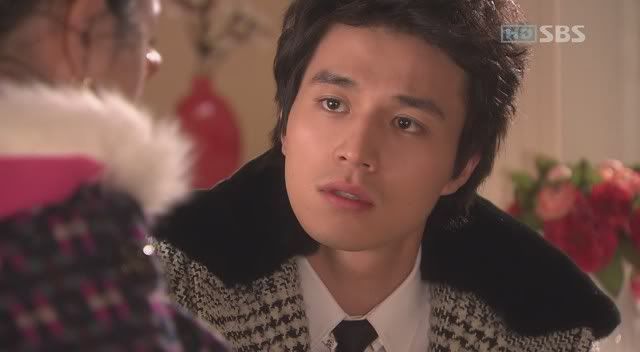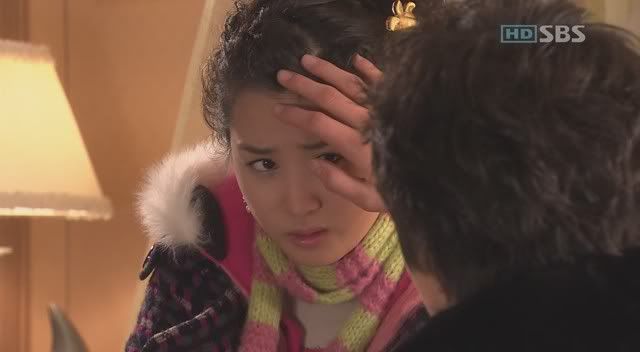 - Aw. And of course Gong-chan is the nice guy who goes in to apologize for cancelling on her. And then when she's sniffles a little, he gets all concerned and then goes out of his way to that egg drink she had made him before. Seriously guys? Where are all the Gong-chan's in the world? WHERE?
- Ah. And it's the beginning of the angsty squash playing. Nothing says "I AM UPSET AND TORTURED" like squash.
- UGH GO AWAY TENNIS GIRL. Her whole "I'm going to win and then propose to him in front of the world" thing is just so delusional. Has Gong-chan even said that he wants to marry you? He's still working through when you left all those years ago. Also, can't you tell that while you want that attention that maybe he doesn't? Shouldn't you know this about the guy you're supposed to love? You're not supposed to tell him to just grin and bear it. Selfish, selfish, SELFISH girl.
- "Do you regret hiring her?" "If I consider Grandfather, I don't." "What if you consider yourself?" "I can't think of myself now." HOLD ME. HIS FACE IS SO SAD THAT I WANT TO CRY RIVERS. He doesn't want to send her away! He's so depressed by the thought. Though, how awesome when he practically snarls at Tennis Girl that Yoo-rin is a good person? I admit it, I cheered a little bit.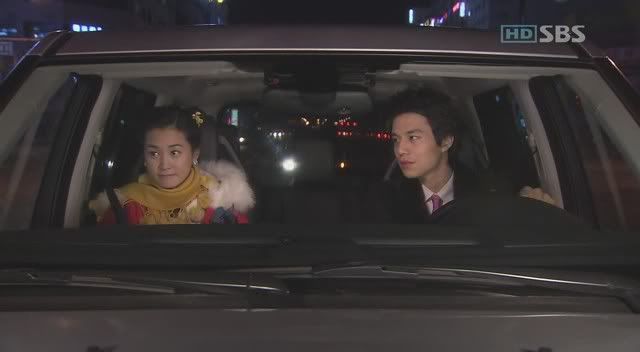 - I love that snow has become sacred to Gong-chan because of Yoo-rin. He can't bear that she be unhappy whenever it snows. He can't tell her that she has to go. He wants her to be bright and bubbly Yoo-rin forever and ever. And then he lets her sleep in the car since he can't bear to wake her up. Ugh. MARRY ME NOW.
- And then Jung-woo goes crazy in a night-club. Yeah sorry Lee Jun-ki, you got nothing on Domyouji for violent outbursts. (I always remember that scene in Hanadan where he just start punching people in the face like a crazy person and then like roaring in the night sky. Did that happen in the Korean version? I can't remember. Surely it does. If anything Lee Min-ho got to beat up people in City Hunter.)
- And then Tennis Girl screws things up again because she's so selfish and jealous of Yoo-rin's position in the family. I mean, from the audience perspective, YAY she's not going to leave. But also, NO, now she HAS to be the cousin and we just fall deeper and deeper into the lie. Tennis Girl does nobody any good.
- Oh man. Gong-chan is just stuck in between a rock and a hard place isn't he? And, once again, all of this underscores just how nice and self-sacrificing he is. He would rather deny his feelings (while clutching that coin Yoo-rin gave him) than cause his family the distress. You can't see the heartbreeeeaaak on his face (Yeah, can't resist a Dokko Jin joke. Sorry.) He is so in love with her that he just doesn't know what to do with his feelings. He gets this petty jealousy about Jung-woo and Yoo-rin. He teases her, touching her when he gets the chance. Just…poor thing.
- They are just so happy together. *sigh*
- AND who else cheered when Gong-chan broke up with Tennis Girl? He's doing her a favor honestly. I mean, he's flat-out saying that he just doesn't think about her anymore. Why can't she see that? Oh yeah because she's an entitled, self-absorbed woman.
- And then they're both lashing out at each other because they love each other but can't handle it. Gong-chan, says as much anyways. These two and their chemistry--look at those eyes! See, I like Chun-hyang and Mong-ryong. Those two are awesome in their own way. But…I don't know. There is just this passionate, desperate longing between Gong-chan and Yoo-rin. They just make your soul ache. You can just feel like they are drowning without the other. I would love to do a post on the different relationship in Hong Sisters' dramas (mainly them because I know them so well). Could be interesting. That's the writer in me though, lol.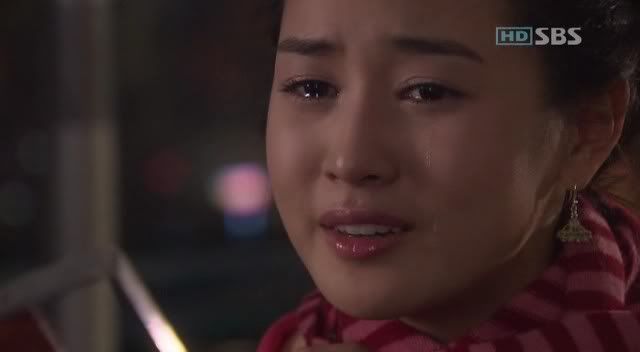 - Yoo-rin's feeling trapped by this lie so she runs to the top of the 63 Building because instead of running far, you go up. Gong-chan does the same because they're forever on the same wavelength. And she calls him, teasing him and eventually saying that she'll stay his cousin until he finds the real one (though she knows that the real cousin is dead.) And oh, they are both near tears but neither one will let the other hear. And then after she hangs up, she says that she loves him. And they just miss each other on the elevator. See those pieces on the ground? Yeah, that's my heart lying in puddles of my tears. THESE TWO OMG.